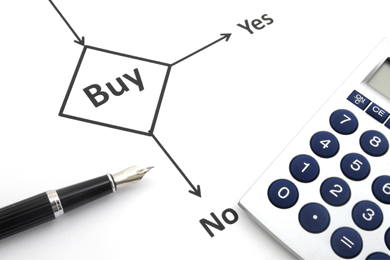 ---
Why Buy? — Renting vs. Buying
Renting: There are definitely perks and conveniences to renting. Most of us have rented an apartment or home at some point in our lives. If you are relocating to a new city or state, renting may be the best option out of the gate. You can negotiate different lease lengths, and if you're renting an apartment, condo or townhome, there are no worries about keeping up with lawncare or snow removal. All maintenance activities and responsibilities are not yours to lose sleep about. Moving to a new location is as simple as packing up your stuff and turning in your keys. There are no selling expenses, selling preparation, no ownership hassles whatsoever. Also, for those with qualifying incomes, a portion of your rent is even tax deductible.
Owning: Freedom at last, right?  Well, sort of… Home ownership is a big step towards financial (and personal) independence, however, maintaining the property falls onto your shoulders.  But, not only is your mortgage interest tax deductible, so are your closing costs, loan origination fees, property taxes, etc. Your house will likely gain value over time (long-term) as it provides you shelter, safety, and a home for your family. You will have the independence to change, alter or renovate your home to your liking!  And if you buy a single-family home, you no longer will share a common wall with your neighbors, you will have your own garage in which to park and your own yard in which to relax.
Where to Buy?
Where to buy really comes down to personal intangibles such as:
Proximity to work – Is a shorter commute to work a priority for you?  Are you planning to work at that job location for the foreseeable future?  Or is it possible that your place of employment may change in the near term?  If there is a decent chance that your work location may be changing soon, consider a more centralized living location…or at least one that offers multiple job options within a reasonable driving distance.
Proximity to family or friends – Maybe your desires/needs compel you to live near family and/or friends.  In this case, asking your family or friends for what they like most (and least) about their general location can help you refine your search parameters to best meet your needs.
Affordability – When it comes down to it, most of us have a home-buying budget, and this is one of the key drivers in our home-buying efforts.  Pricing thresholds will help define buying areas, neighborhoods, and whether your target will be buying new construction or existing construction.
What to Buy?
There are many different types of residential properties, and the type you buy will depend on your personal needs, home-maintenance desires/abilities, and your housing budget.
Condos – 

You are only responsible for maintaining what's inside of the unit, which can be a big plus if you desire maintenance-free living. The roof, exterior siding, landscape and windows are usually covered by the Home Owner's Association, for which you pay a monthly association dues.
Depending on the luxury-level of the condo, the Association may offer amenities such as a swimming pool, fitness center, tennis court, spa, and a clubhouse that you can reserve to host gatherings.
Condos are generally more affordable (less-expensive) than buying a single-family home.
Great for buyers looking for simple, convenient living without the worries of exterior maintenance including grass cutting and snow removal.

Townhomes –

Essentially the same as a condo, except townhomes can be side-by-side in a row setup, or they can be detached like single-family homes. You generally don't see townhomes in apartment-like setups.
Most townhomes have a Home Owner's Association like a condo, with many of the same amenities depending on the luxury level.
The Association takes care of the roof, exterior siding, landscaping  and other exterior maintenance responsibilities, for which you pay a monthly or annual association dues.
Townhomes, on average, are less expensive than single-family homes, but luxury townhomes also exist for those folks looking for an amenity-rich, low-maintenance, low-responsibility living.

Single-Family Homes – 

They are generally more expensive than Condos or Townhomes.
Most are not governed by a Home Owner's Association, thereby allowing you more freedom with making exterior and interior modifications or improvements.
There are no common walls to be shared with your neighbors; which typically means more privacy.
Larger backyards, private garage space, and the ability to do what you want with your home are liberties more common with Single-Family Homes.
However, with single-family homes also comes the added responsibility of performing your own home maintenance.

New Construction or Existing Construction –

An existing home may be for you if…

You wish to have a better assessment of your neighborhood's identity.  Existing homes in a mature neighborhood offer less potential for local area changes such as new buildings, new home construction or new shopping centers popping up.
You wish to spend a bit less than new construction.
You do not have the desire, knowledge or crave the stress of selecting various finishes or decorating from a "blank canvas".
You prefer mature landscaping, closet organizers already installed, window treatments already in place, and storage shelving already in the garage (and/or utility room).
You desire more land or space for the dollar.
You want to live in a more centrally located area… most new construction takes place on the "out skirts" of metropolitan areas.

A new construction home may be for you if…

You like the idea of a house being only yours…no others having lived in the home.
You like decorating a blank canvas, including painting and window treatments.
You want a more energy-efficient home, as newer construction homes are built to more strict energy guidelines. All new construction homes are being built with 2"x 6" exterior wall construction, and/or being insulated with expandable polystyrene insulation. Energy bills will likely be lower (per square foot) in new construction homes.
You desire to have your home pre-wired for conveniences like multiple phone lines, computer networking, speaker wiring, or even heated flooring.
Enjoy landscaping from scratch including the moving of dirt, mulch, rock, plants, shrubs, and trees all the while paying attention to water drainage design.